Phoenix Immigration Law Firm
Empathetic and Experienced Legal Support from an Immigrant Attorney
Whether you looking to petition for a green card for a family member, secure a student visa, apply for employment-based immigration, or defend against deportation, Essien Law Firm can help. We practice exclusively in immigration law, and our principal attorney Lelia Adams is personally and professionally dedicated to supporting immigrants. She was once an immigrant herself, and she has had to go through the painful process of getting her immigrant mother back to the US after she was deported.
Our firm is located in central Phoenix near both the US Citizenship and Immigration Services (USCIS) building and the Phoenix Immigration Court. We provide services in different areas of federal immigration law all over Arizona and the nation. Immigration is a tough and sensitive issue for most people around the world and in the United States; let a lawyer who was once an immigrant champion your immigration rights.
---
Schedule a free initial consultation with Essien Law Firm to get started with our immigration lawyer in Phoenix. Advocating for hopeful immigrants in Maricopa County and throughout all of Arizona.
---
While it is true that no lawyer can guarantee the outcome of any particular case, our firm can assure you that we will work as hard as we possibly can for you to fully represent your immigration interests. Immigration law can be a very complicated issue for many people, especially those who are unclear about US law; therefore, having an experienced professional represent you is vital to a successful immigration case.
There are a number of immigration attorneys in Phoenix, but few of those attorneys are also immigrants. At Essien Law Firm, you will be represented by a lawyer who understands your situation personally and can relate to your concerns as someone who has had to go through the US immigration system herself. We know the daily struggles facing immigrants in America. With constant immigration raids and deportation efforts in Phoenix in particular, it is important to have someone on your side who will fully represent your interests. Essien Law Firm is unlike most other immigration firms in Phoenix because we are an immigration firm by immigrants for immigrants.
Watch Our Videos
Learn more about our firm and how we can help you!
View All
"Immigration is very complicated and you need an intelligent attorney to represent you, Lelia is that attorney."

- Phillis M.

"I have used multiple attorneys in the past and Lelia has proven to exceed my expectations, she was completely understanding, professional and worked very diligently to the end and I'm so grateful!"

- Walter S.

"I have to admit that I was really impressed by the way she handle the case to bring it to a successful outcome in a very short period of time."

- Elie Z.

"We are grateful to you Lelia Adams for your efforts you made since the very beginning of my husband Aloysius Davis Immigration process from South Korea"

- Alice D.

"She is incredibly knowledgeable, thorough, and always makes herself available to answer questions."

- Latoya I.

"Her knowledge of the laws when it comes to immigration is impeccable."

- Timothy W.

"From my first interaction with her, I was comforted by the great interest she took in understanding my case and providing reassuring advice."

- Bisi E.

"She was very efficient, detailed oriented and highly professional."

- Sobin A.

"She does her best to explain legal processes and has a genuine desire to help."

- Nancy P.

"She is caring, patient, knowledgeable, professional and very detail oriented."

- Adriana S.

"I strongly recommend her, as an immigrant herself who has gone through the process, makes her the perfect attorney for immigration.
"

- Louis

"When it comes to immigration law, she is well versed and more importantly up to date as it relates to this ongoing crisis in Ukraine and Visa process updates."

- David P.

"She listens carefully, explains thoroughly, and has gone above and beyond in her case.
"

- Mercy T.

"You are extremely knowledgeable and professional, you know how to make each case successful, and with your help and advice made it so easy for me to understand how it works and how to be ready."

- Rami A.

"Leila is very knowledgeable and takes the time to listen."

- Mel M.
-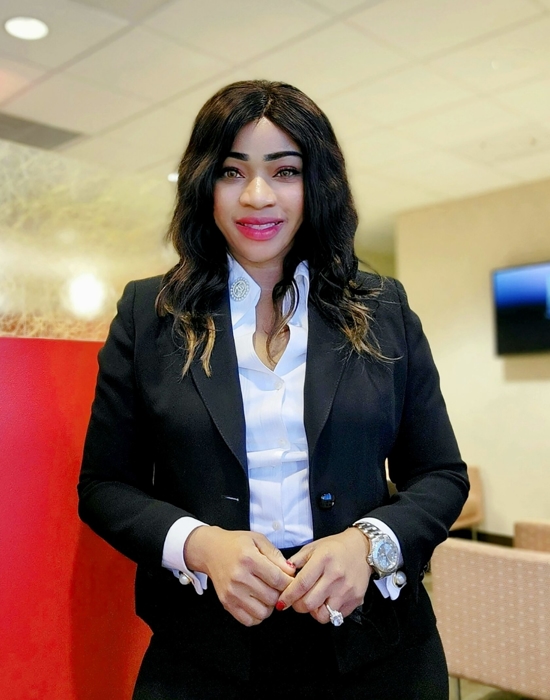 Lelia Adams
Founding Attorney
Bio
Lelia Adams is a Principal Attorney at Essien Law Firm. Lelia specializes in consulting/representing clients in the area of Family-Based Immigration, Nonimmigrant Visas for Students/ Exchange Visitors, Investment-Based Immigration, Deferred Action for Childhood Arrival (DACA), Violence Against Women Act (VAWA), Employment-Based Immigration, Deportation and Removal, Asylum and representing their interests when dealing with USCIS and immigration court.
Learn More
Helping You Obtain Permanent Residency
One of our service areas as an immigration law firm is helping you obtain lawful permanent residency. Whether you are petitioning a family member to join you in the US, applying for asylum as a foreign national, or seeking residency under VAWA, Essien Law Firm can work with you on your case to ensure a smooth and efficient process. We can explain all your available legal options, such as which visas you can apply for and which family members you are allowed to sponsor, as well as help you build a strong case for staying in the US. The American immigration system is not an easy one to navigate, but an experienced lawyer can make it feel more manageable.
Defending You Against Removal
Our firm is also committed to providing assertive and passionate removal defense. Unfortunately, the risk of deportation frequently looms over the heads of hardworking immigrants, such as with unannounced ICE raids. Attorney Lelia Adams has had to face the reality of deportation for her own mother, so she can empathize with the anxiety and fear that you may be feeling. Attorney Adams will do her best to safeguard your immigration rights and build a strong case to appeal any deportation actions against you. Schedule a free consultation today to learn more.
Immigrants Helping Other Immigrants
Attorney Adams, an immigrant herself, can relate directly to you and your situation. She has years of experience in immigration law cases and will always seek the best possible solution for her clients.
Learn More about Lelia