Immigration Law Firm With Over 10 Years of Experience Winning Cases for People Like You!
Watch Our Videos
Learn more about our firm and how we can help you!
View All
"Immigration is very complicated and you need an intelligent attorney to represent you, Lelia is that attorney."

- Phillis M.

"I have used multiple attorneys in the past and Lelia has proven to exceed my expectations, she was completely understanding, professional and worked very diligently to the end and I'm so grateful!"

- Walter S.

"I have to admit that I was really impressed by the way she handle the case to bring it to a successful outcome in a very short period of time."

- Elie Z.

"We are grateful to you Lelia Adams for your efforts you made since the very beginning of my husband Aloysius Davis Immigration process from South Korea"

- Alice D.

"She is incredibly knowledgeable, thorough, and always makes herself available to answer questions."

- Latoya I.

"Her knowledge of the laws when it comes to immigration is impeccable."

- Timothy W.

"From my first interaction with her, I was comforted by the great interest she took in understanding my case and providing reassuring advice."

- Bisi E.

"She was very efficient, detailed oriented and highly professional."

- Sobin A.

"She does her best to explain legal processes and has a genuine desire to help."

- Nancy P.

"She is caring, patient, knowledgeable, professional and very detail oriented."

- Adriana S.

"I strongly recommend her, as an immigrant herself who has gone through the process, makes her the perfect attorney for immigration.
"

- Louis

"When it comes to immigration law, she is well versed and more importantly up to date as it relates to this ongoing crisis in Ukraine and Visa process updates."

- David P.

"She listens carefully, explains thoroughly, and has gone above and beyond in her case.
"

- Mercy T.

"You are extremely knowledgeable and professional, you know how to make each case successful, and with your help and advice made it so easy for me to understand how it works and how to be ready."

- Rami A.

"Leila is very knowledgeable and takes the time to listen."

- Mel M.
-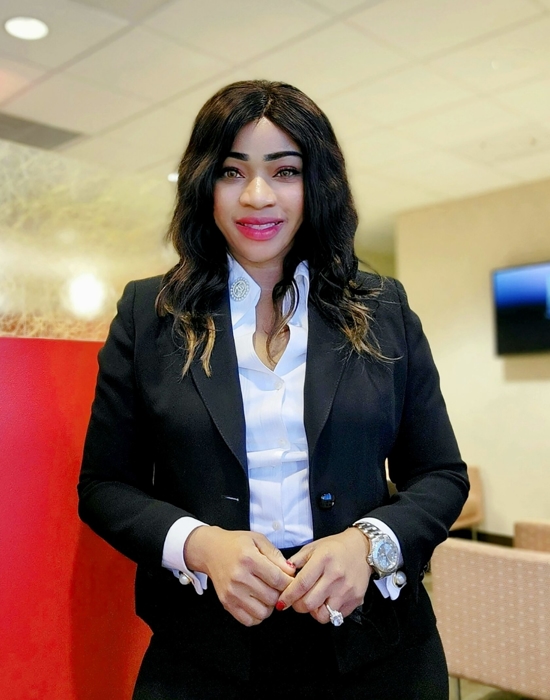 Lelia Adams
Founding Attorney
Bio
Lelia Adams is a Principal Attorney at Essien Law Firm. Lelia specializes in consulting/representing clients in the area of Family-Based Immigration, Nonimmigrant Visas for Students/ Exchange Visitors, Investment-Based Immigration, Deferred Action for Childhood Arrival (DACA), Violence Against Women Act (VAWA), Employment-Based Immigration, Deportation and Removal, Asylum and representing their interests when dealing with USCIS and immigration court.
Learn More
Ways Our Phoenix Immigration Lawyer Can Help
As a trusted Phoenix immigration attorney, Lelia Adams is thoroughly equipped to guide you through the complex maze of U.S. immigration laws and procedures. Her in-depth knowledge and years of practical experience enable her to provide tailored legal strategies to help you navigate the immigration process, whether you're seeking permanent residency, applying for a work permit, or facing deportation.
We can provide you with:
Personalized Consultation: A Phoenix immigration attorney like Lelia Adams provides personalized consultation to understand your unique situation and objectives. She can guide you in making informed decisions that align with your immigration goals.
Application Assistance: Whether you're seeking to apply for citizenship, a visa, permanent residency, or a work permit, we can help streamline the process by assisting in the preparation and submission of necessary documents, ensuring that all paperwork is accurately completed to avoid potential delays.
Legal Representation in Immigration Courts: If you're facing removal proceedings, having a dedicated immigration attorney in Arizona can significantly change the outcome. Our attorney has the expertise to represent you in immigration courts, advocating for your rights and fighting for your best interests.
Asylum Applications: If you're seeking refuge in the United States due to fear of persecution in your home country, we can assist you in filing an asylum application, guiding you through the process, and representing you in court if necessary.
Appeals and Waivers: If your immigration application has been denied, we can help file an appeal or request a waiver in certain situations, leveraging her extensive knowledge of the complex U.S. immigration laws.
Remember, every immigration case is unique and requires a detailed approach for every individual. Trust Lelia Adams, your Phoenix immigration lawyer, to provide the attention and expertise your case deserves.
Helping You Obtain Permanent Residency
One of our service areas as an immigration law firm is helping you obtain lawful permanent residency. Whether you are petitioning a family member to join you in the US, applying for asylum as a foreign national, or seeking residency under VAWA, Essien Law Firm can work with you on your case to ensure a smooth and efficient process. We can explain all your available legal options, such as which visas you can apply for and which family members you are allowed to sponsor, as well as help you build a strong case for staying in the US. The American immigration system is not an easy one to navigate, but an experienced lawyer can make it feel more manageable.
Defending You Against Removal
Our firm is also committed to providing assertive and passionate removal defense. Unfortunately, the risk of deportation frequently looms over the heads of hardworking immigrants, such as with unannounced ICE raids. Attorney Lelia Adams has had to face the reality of deportation for her own mother, so she can empathize with the anxiety and fear that you may be feeling. Attorney Adams will do her best to safeguard your immigration rights and build a strong case to appeal any deportation actions against you.
Immigrants Helping Other Immigrants
Attorney Adams, an immigrant herself, can relate directly to you and your situation. She has years of experience in immigration law cases and will always seek the best possible solution for her clients.
Learn More about Lelia